Today Jas and I went to see the Bourne Supremacy. It was a really good movie only I was nearly sick by the end. Why? Well it's like the movie guys hired some guy to hold their camera and he wasn't very good at it - it was very shaky and the screen was impossible to even look at when there was a high action scene or moving traffic! It was like being on an awful rollercoaster and watching the world wizz by in a blur. So I was pretty much over the movie by the end and just wanted out of the cinema for fresh air. I really felt woozy - like I had motion sickness :(
On to nicer things, I'm going to be doing a layout shortly on my quilts that I've created, so I'm going to post a couple of pictures over the next few days of them for you all to see. Here's the first couple: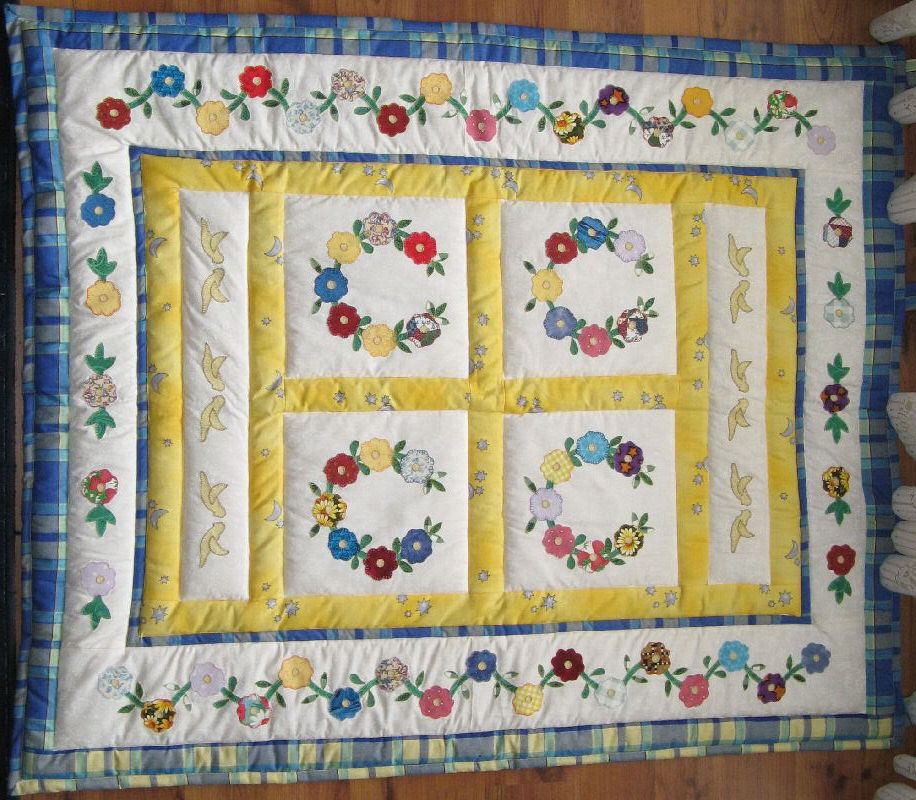 All applique is hand stitched with blanket stitch. Keep your eye out for more tomorrow.
Amber will be home shortly, she now has extra curricular activities on Wednesday at school - would you believe she chose "fitness activities", I was so proud that she chose that. They had all sorts to choose from: cooking, craft, games, dancing etc - which were her other choices, but Amber got picked to do fitness activities. Only problem is Wednesday is a dress uniform day, but I have to pack all of her sport clothes and shoes for after school! I'm not sure how much outdoor activities she will be doing today because we have a high wind warning and it's quite cold and rainy out - I'm sure we'll find out when she gets home. Amber also did her Oral presentation today on her favourite story. The project went a little like this: You pick a book, then create a bag that is related to the book, then you write a letter to the author telling them why you like the book and how it made you feel, you decorate your bag and put in 3 things that are also related to the book. Amber chose Busy, Busy Day (which was the first book she could read all by herself). I should have taken pictures of the project before she took it on Monday, hopefully we'll get them back soon and I'll post pictures then. Amber also get's to dress up as her favourite book character this Friday - she wants to go as Ariel the Mermaid - I have to find her purple shell bra in the next two days or it's gonna be on for young and old!